Hagen Renaker Boston Terrier Puppy Dog - New & Final Edition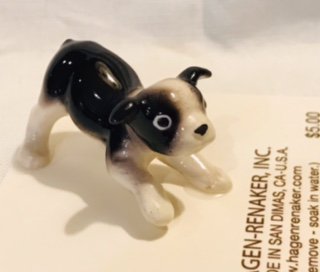 5 available
Details
Shipping: US-Mainland: $4.95 (more destinations)
Sales Tax: check
Condition: Brand new
Returns: 7 days, buyer pays return shipping (more)
Hagen Renaker Boston Terrier Puppy Dog - New & Final Edition
The image is for display and may vary in detail and shading as all HRs are handmade. We have several of them.
The one you receive may be on or off the card according to inventory at the time of purchase.
This Hagen Renaker is guaranteed to be an original Hagen Renaker California directly from HR while in operation and from one of the last few orders we received prior to HR closing its business after many good years.
Height: 1.50"T x 2.00"L
Condition: New, No Damage
Note: The image serves as display only. All HRs vary slightly in details and Shading.
If you are getting the one in the image, it will say so in the listing.
SKU: N030323

We Offer Combined Shipping
This high-quality Hagen Renaker miniature animal figurine is a unique piece of art. It takes a lot of experience, skill and attention to each tiny detail to produce this wonderful figure. Each Hagen Renaker miniature is entirely hand-painted by talented artists. Every Hagen Renaker piece is high-fired and subjected to rigorous quality control. This process guarantees the quality of the colors, the perfect shape and the sharpness of every detail. Each Hagen Renaker critter makes a perfect gift for your friends, family or yourself and a treasured and wonderful addition to any Hagen Renaker collection.